Local Logistics and Transportation Delivery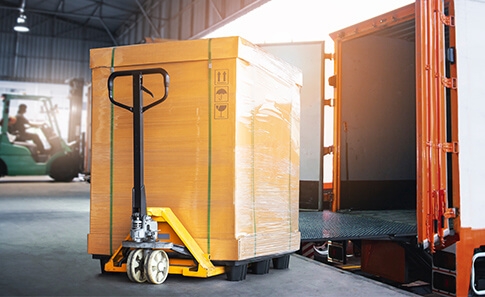 In today's rapidly changing business environment, the trend of globalization has intensified the movement of goods between different countries and regions. Logistics and transportation are essential aspects of business operations, making it crucial to choose the right local logistics and transportation delivery service provider.
The purpose of local logistics and transportation delivery services is to enhance the efficiency and reduce the costs of product transportation through effective transportation and distribution methods, ultimately better meeting customer demands. These services can include various modes of transportation such as road, sea, and air.
Our company also offers warehousing services where customers can store their goods in our warehouse. Through our inventory management system, customers can arrange for the entry and exit of goods, enabling flexible handling and time savings.
In the local market, there are numerous providers of logistics and transportation delivery services, each offering different solutions to meet the needs of various businesses. A good logistics and transportation delivery service provider should possess the following characteristics:
Multiple transportation modes

Accurate transportation timing

Excellent customer service

Efficient transportation management system

Reasonable pricing
Additionally, our logistics and transportation team can provide customized delivery solutions to meet your specific needs. Whether you require scheduled deliveries or the transportation of special items, we can offer the most suitable solutions.
Furthermore, we also provide cross-border logistics and transportation services. If you need to transport goods overseas or import goods from abroad, we can offer sea or air transportation solutions.
We have established long-term partnerships with internationally renowned transportation companies, ensuring that we provide high-quality transportation services and guarantee timely delivery of goods to their destinations.
In summary, our local logistics and transportation delivery services can provide you with fast, reliable, and secure solutions for transporting goods. Whether you are an individual or a business in need of transportation services, we can offer you the highest quality service. Please contact our customer service team for more details and a quotation.
Local logistics and delivery services include but are not limited to:
Business Equipment Transportation
When you need to transport business equipment, it is crucial to choose a reliable, safe, and efficient logistics company. Business equipment transportation is a complex process that requires special skills and expertise to ensure the equipment is safely delivered to its destination.
During the transportation process, business equipment may be at risk of damage or loss, making the selection of an appropriate logistics company essential.
First and foremost, selecting a logistics company with extensive experience is crucial. 456 Logistics can provide you with excellent service because our team has encountered various transportation challenges. With their rich knowledge and skills, they can ensure your business equipment receives the best care during transportation.
Additionally, 456 Logistics can provide professional advice to assist you in making better decisions.
Secondly, the safety record of a logistics company is another important indicator of its reliability. 456 Logistics complies with industry standards to ensure your business equipment receives optimal care during transportation.
Lastly, you should choose a logistics company that offers comprehensive services. This means they can handle all transportation and logistics tasks, from packaging to transportation and delivery. 456 Logistics has the appropriate vehicles, tools, and personnel to ensure your business equipment receives complete care throughout the transportation process.
Overall, business equipment transportation is a complex process that requires precise planning and expertise. 456 Logistics is an experienced logistics company with a good safety record and comprehensive services, guaranteeing the best care for your business equipment during transportation.
This service is one of our core offerings, and we have ample experience in handling various types of business equipment deliveries. In 2022, we successfully transported over 1000 self-service ticketing machines to various operating locations in Hong Kong, Kowloon, and the New Territories, serving companies such as the Hong Kong Jockey Club, Seven Eleven, and McDonald's.
Retail Point Delivery
We offer door-to-door delivery services to designated retail points or stores, providing timely replenishment for branches or retailers.
In today's highly competitive retail industry, fast and reliable product delivery has become a crucial factor for success. Consumers expect to receive the products they purchase in the shortest possible time, making efficient delivery services a necessity for retail stores to meet their demands.
Efficient logistics and supply chain management in retail point delivery can provide significant advantages for retailers.
At 456 Logistics, we are committed to providing top-quality logistics services to our business clients, and for many retailers, excellent logistics and delivery services are key factors in maintaining customer loyalty and increasing revenue.
Understanding this, 456 Logistics offers professional and efficient retail point delivery services to meet our customers' needs.
Our retail point delivery services cover various categories of items, including clothing, footwear, food, electronics, and more. We utilize the latest software technology in our delivery services, helping customers manage and track their goods to ensure timely transportation and on-time delivery.
To provide the best service and ensure efficiency and safety throughout the logistics and transportation process, our delivery team consists of experienced professionals who handle each item with utmost care and responsibility, ensuring its arrival at the destination within the specified time.
In addition, 456 Logistics' retail point delivery service can provide customized solutions to meet specific customer requirements. For example, if a customer requires deliveries in the evening or on weekends, we can make adjustments to ensure their requirements are met.
Importantly, we maintain a high level of confidentiality for our customers' goods and ensure their protection during transportation. Our delivery team follows standard safety procedures and protocols to ensure the safe transportation of goods.
In summary, 456 Logistics' retail point delivery service is reliable, efficient, and professional. Our goal is to provide the highest quality logistics service and create value for our customers.
Restaurant Supplies Delivery
456 Logistics provides efficient, secure, and reliable restaurant supplies delivery services, with a professional team that offers comprehensive logistics solutions tailored to our customers' needs.
Here are the advantages of our services:
Fast Delivery: Our priority is to deliver the required supplies to our customers quickly. Our logistics team ensures timely delivery. Our fleet of delivery vehicles is equipped to accommodate various items, including fragile or special items.
Cost Savings and Efficiency: Our restaurant supplies delivery service helps restaurants save costs. We offer competitive prices and can handle high demand during holidays or busy periods. Our logistics team utilizes the best routes for the shortest delivery time while ensuring the safety of supplies.
Safety Assurance: We understand the importance of the supplies needed by restaurants, so we provide security measures to ensure the goods are protected during transportation. Our team ensures proper packaging and uses the safest methods during transportation to maintain the integrity of the supplies.
Customized Services: We provide customized restaurant supplies delivery services to meet each customer's specific requirements. We can offer different delivery times and special transportation services, such as express delivery or refrigerated item transportation.
Our restaurant supplies delivery service helps restaurants save time and money while ensuring the safety and integrity of supplies. If you are looking for a reliable, efficient, and competitive logistics service provider, 456 Logistics is the best choice. We look forward to working with you and providing the highest quality logistics solutions.
Exhibition and Trade Show Delivery
456 Logistics is a comprehensive logistics service company that not only provides general cargo transportation but also specializes in exhibition and trade show delivery services.
In exhibitions and trade shows, the delivery of goods is a crucial aspect that must ensure the timely arrival of goods at the designated location, enabling the smooth running of the event.
Our exhibition and trade show delivery service can provide full logistics support to our customers, including picking, packing, and delivering goods from the warehouse to the on-site unloading and replenishment. With our extensive experience and professional team, we can provide excellent logistics services to ensure the timely delivery of goods to the exhibition or trade show venue.
Furthermore, our delivery service can accommodate various customer needs. Different exhibitions and trade shows may have specific requirements, such as deliveries during late nights or early mornings, or the transportation of a large volume of goods within a short time frame.
We can tailor the delivery plan to meet customer requirements and the characteristics of the exhibition or trade show, ensuring on-time delivery.
Lastly, we offer professional on-site coordination services. Exhibition and trade show venues often present complex situations that require professional coordination to ensure the smooth delivery of goods to the designated locations. Our team has extensive experience in on-site coordination and can ensure the successful delivery of goods.
In conclusion, 456 Logistics' exhibition and trade show delivery service provides comprehensive logistics support, meets various customer needs, and delivers professional service. We have served internationally renowned luxury brands in transporting exhibition equipment, furniture, and supplies. 456 Logistics Limited is the contracted warehousing and logistics provider for LVMH Watchs and Jewellery Hong Kong.